Lahoret Market 欲しいもの
2019.08.18 Sunday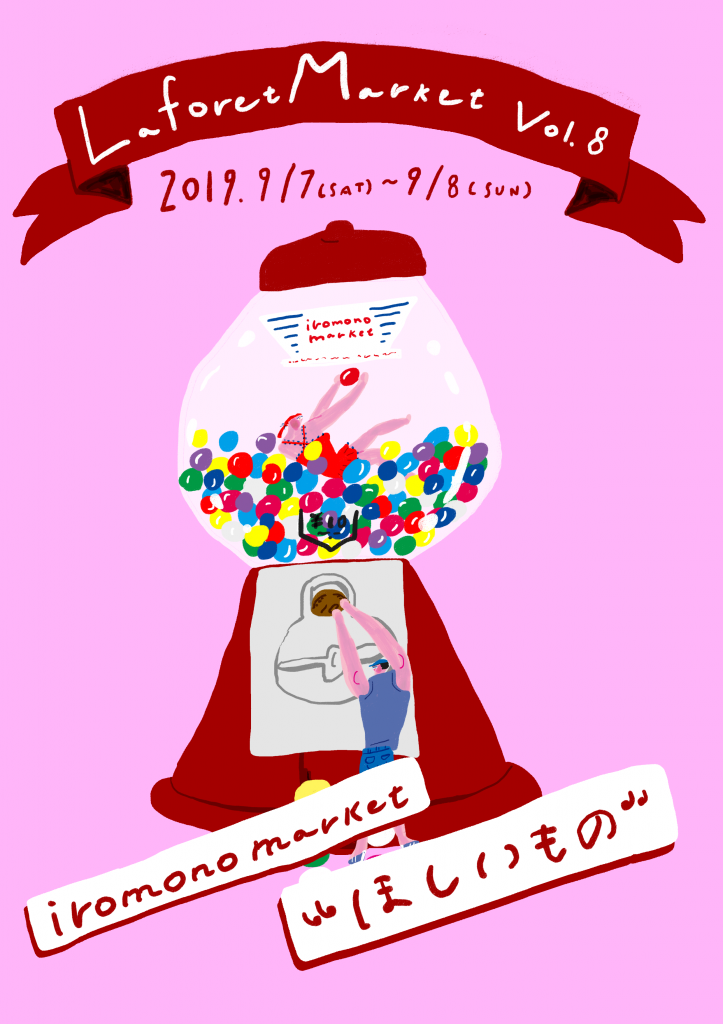 Laforet Market vol.8
2019年9月7日(sat ) / 8日(sun)
11時〜19時 入場無料(入場は18時30分まで)
東京都渋谷区神宮前1-11-6ラフォーレ原宿6階
お問合せ先03-3475-0411
ラフォーレ原宿からカルチャーを発信する
【Laforet Market】第8弾開催
原宿において新たなカルチャーやクリエーションを長年発信し続けてきたラフォーレ原宿が、
新企画として【Laforet Market】を2017年9月にスタート。
ファッション、アート、音楽をキーワードに毎回テーマを変え、あらゆるジャンルのクリエイター、メーカー、ショップが集まるC to C(Creator to Customer )のマーケットとして、クリエイションに出会える場所を目指し、カルチャーを発信していきます。
ローカルからツーリストまで、さまざまな人が行き交う原宿で、東京の今を感じる多彩な出店者との会話を楽しみ、個性的なアイテムに触れられる、新しいマーケットです。
期間中は、沢山のショップが出店するほか、クリエイターやアーティストによるパフォーマンスも開催。
【Creator & Artist】
Sophie et Chocolat 
Asami Otomo
はるちゃん雑貨 
SCENARIO PEPPERS 
emptiomania
Fancy a la mode
kosokoso
CYILABO
Nhozagri
Moon Prim   
TENUSIS    
mikko illustrations
Aki Ishibashi
tsumikipoche
filer du fil
coffret
milky
otome to okaka
efuca.
【Laforet Market vol.8 】
September 7th(Sat) / 8th (Sun)
Open 11:00~7:00 Free admission( Last Last admission is at 6:30 PM)
Laforet Harajuku 6F, 1-16 Jingumae, Shibuya-Ku, Tokyo.
TEL 03-3475-0411
Sending culture from Laforet Harajuku
[Laforet Market] 8th edition
Laforet Harajuku has provided new culture and creations for many years. Laforet released its very own market in 2017, incorporating dynamic themes such as fashion, art, and music! Laforet strives to be a place where creators and manufacturers can efficiently disperse their culture and products to customers.
Laforet's market offers a way for you to speak individually with owners of some of the most cutting edge shops, bringing you up to date with some of the latest trends and creative new ideas. Because of its location, this market attracts a variety of people spanning from local residents to visiting tourists.
Smoking is not be permitted inside of this event Payments are to be made individually at each booth You may not refund or exchange anything purchased Gift certificates and coupons can not be used If you take the elevator, we will be located upstairs from the 5th floor.
This year will also be IromonoMarket's second time participating in this event.
The theme is "What you want!"
This event will include many artists and creators, as well as foreign creators, and will open up many shops to the public.
In addition, children's clothes and sundries will be sold according to the event's theme.
There are so many different products available so please come by and check it out!
※ Creators Tsumiki Poche and Filer Du Fil require an admission ticket, If you wish to buy from these creators please apply for a numbered lottery ticket starting Sunday, August 25th! This is an admission ticket and does not guarantee purchase.
( I'll let you know the details later. )
Also for a limited time if you spend over 5000 JPY, you will receive a free gift as an added bonus!
But hurry because this deal expires as soon as stock runs out.